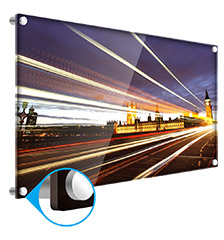 Acrylic glass photo - 100x50 cm (direct print)
¤ 109,00
(VAT included,
P&P
excluded)
Printed behind acrylic glass - Ideal for background lighs
The acrylic allows light to pass through. This gives your photo print an impressive depth effect.
Material: 5 mm thic acrylic glas
Format: 100x50 cm
Direct print is suitable for moist rooms (such as bathrooms, kitchens, etc.)
Tip: Mind to order your favorite wall mount with this product.
High-quality materials
Brilliant colours
Permanent quality checks